Classes and Treatments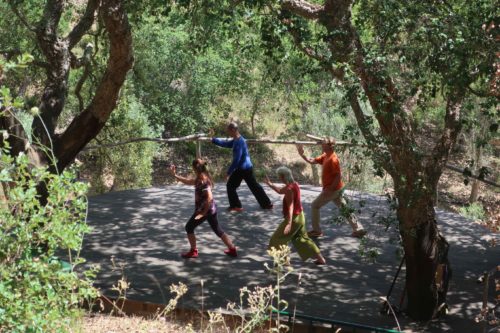 (Para texto em Portugues ver em baixo)
If you are living in the local area you are welcome to come and join our classes. Please contact us if it is your first time, and to find out about times and exact location.
Classes are by donation that will go toward the development of the Monte da Vida project.
We also offer holistic healing treatments, and coaching. See what we offer below….
Current Weekly Classes
Taoist Breathing techniques and Qigong with Clare.
Fridays 11am-11.50am at Monte da Vida. 
Presence and Daoist Meditation with Servan.
Fridays 12pm-1pm at Monte da Vida (attendance of Qigong class is required).
Tai Chi (Wu Style) with Servan
Mondays 11.00-12.00 at Monte da Vida. 
Energy clearing . Pelvic healing for women. (Ecuadorian tradition)
Healing support with Flower Essences
Personal coaching and transformative counselling
Aulas e Tratamentos
Se vive no local você está convidado a vir e participar nas aulas. As aulas são por donativo que irá para o desenvolvimento do projeto Monte da Vida.
Entre em contato conosco, se é sua primeira vez.
Aulas semanais
Respiração Taoista e Qigong, com Clare
As Sexta-feiras 11 – 11.50 am a Monte da Vida. Ler mais aqui: Respiração para a vida
Presença e Meditação com Servan
As Sexta-feiras 12 – 1 pm a Monte da Vida
 Tai Chi com Servan
As Segunda-feiras, 11.00 – 12.00 a Monte da Vida
Quando não está a chover. Nós treinamos regularmente Wing Chun, Tai Chi, Bagua e Qigong em nosso grande deck nas árvores. Se você é um praticante de qualquer um destes estilos e está na região e desejam praticar, nós gostaríamos de ouvir de você.
Tratamentos e treinamento transformacional
Terapia Craniossacral – com Els
Limpeza de energia e cura pélvica para mulheres – com Clare
Cura com Florais – Clare
Coaching pessoal e aconselhamento transformador – com Servan